Due to COVID-19 
I was unable to open in March as planned for my RLS Garden Sanctuary.  Those of you needing my help as clergy do not hesitate to text me and I will respond to you for counsel. Presently we are adjusting to the ever changing guidelines in Hawaii and look forward to serving you in future time.
Rabbi Rita Leonard
Do not despair, please visit my clergy website now-
www.HawaiiRabbi.com
                               2018- The  R.L.S.  Tea Room  NEWS -2018
Welcome to the Official Site of The Robert Louis Stevenson Tea Room;  My Underwoods album is complete at last and all the gardens here on the mountain are planted.  The R.L.S. Tea Room is being tended to with plans to open the doors to guests by appointment exclusively in 2019. Exciting, especially for those of you who have been my Tea Room guests before and for we who have missed you dearly. Not only will the menu reach new heights of wonder with tropic influence a la Mrs. R.L. Stevenson, the teas I have hand-grown organically in the tropics, USA have been cast into the mix of my menu of rarest teas of literary and historical merit. And, a new face is on the horizon, mystery of mysteries, and there are many stories of travels to tell -with guests. Children are adored in hours of lessons of learning about teatime, literature and themed children's workshops & events. Thank you, watch the show on PBS linked to this site, fond memories!
                ~R. Leonard, Proprietress of The Robert Louis Stevenson Tea Room LLC 

               Wraith in Winter, Saranac Lake
                                            ❦
                  I'd travelled with my people
                      away to  Snowy-Land 
                       to honor the True Poet,
                             a great and honest man.
            Now presently, I Wraith, 

         who died, 'twas buried there,
           follow still, am watching them...
                    build dreams in Tropic-Land.
-Rita Leonard, May 4th, 2016
2017 - The Tea Gardens planted, 1st harvest cast!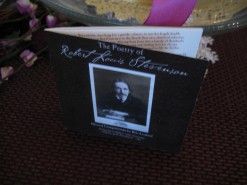 My last letter to you below...
Dear Ones.                    
I am in reclusion completing my new RLS album, ♣UNDERWOODS♣; by January 2017 it will be available for purchase. Mahalo to those of you who supported my successful Kickstarter project!
This site will in future contain news about the progress of  The Robert Louis Stevenson Tea Room Gardens as well the most tragic history of doing business in Saranac Lake in my old house broken by hauntings,  populated and disturbingly run by many a fearful ghost. They have literally driven terrified guests they did not like right out the doors.
Thank you for your interest, patience and  support of my work...the esoteric writings, music, teas, and art.
 WARNING
My work in all its forms is not to be copied under penalty of law. Copycats, thieves of every artistic endeavor, are witnessed within & without my walls and doors and human-morons who have no ethics are darkly cursed unto the fourth generation. Beware! 
 RL