Welcome Homeschoolers
and ALL who wish to open your hearts and minds to really authentic education without the influence of harm to your mind, body, soul and spirit.  
Long ago, when few ʻpioneers' were thinking to I took my children out of the gulag and decided to homeschool them; of all the things I have acheived in my long lifetime it is Homeschooling that tops the list of bests!The outcome, over 40 years ...my sons are fine men in life,  having been taught in safety at HOME!
   Know that  many before you have chosen this path of truth with courage to trust in freedom, G-D given, through the darkest of times.  
So lets begin ...
with seeing but one of my miniature sets showing a little boy by fireside.
His name is Robert Louis Stevenson and he was born in 1850.  
Question-
How old would the little boy be today?
Subtract 1850, the year he was born from 2022, this year and you will have your answer!
More... next time! ✍🏻
... a little delight for you to ponder.
Sweet dreams, there is so much to learn of  'beneath 'the wide and starry sky'  (he wrote those words)....the adventure has begun. You are 
The Adventurer, 
and
that little boy was too!
The picture I took for you - of the set in my museum. 👁👁
'RLS by Fireside' 
-photo under exclusive copyright taken by Rabbi Rita Leonard, President Stevenson Society of America INC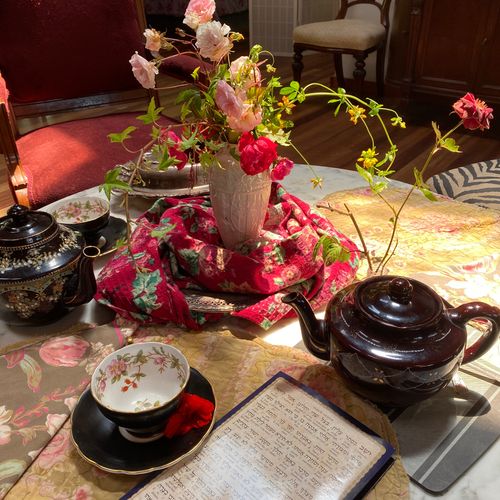 Visits free to all. Tip gift jar 🎁 if you can here.
The Robert Louis Stevenson Tea Room Garden's & Children's Museum LLC is presently engaged in creating authentic literary miniature sets to educate children and children at heart, a virtual experience too for I'll not be deterred by the pandemic Stevenson, My Shadow would not have been! Thank you kindly, R. Leonard
Enter the amount you wish to donate
Next Lesson
The year 1850 as you have learned, was the year the little boy in the museum setting was born.
He was born on November 13th, 1850.
Question worthy of remembrance
Do you know the date you were born... Month and day and year?
I am so happy that you were born!
We'll be calling the little boy Louis, for he liked to be called Louis very, very much!
He was a sickly child and in those days... Victorian times, when children fell ill it was the custom to shut all the windows and keep the sick indoors.
This was the wrong thing to do for fresh air would, as we know today, have improved his health.
Only when he was older and went on adventures that took him outdoors did his health improve! 
He always felt good on sailing ships   for the sea breeze and the beauty of the wide open and free atmosphere improved his body and spirit so very much.
🕯Question to ponder-
What do you like to do that lifts your spirits?
Thank you for visiting and learning with me today!
You are wonderful.🌬Fresh air we know is a gift given from G-D to us that lifts up our spirits and strengthens us as it does all creation.
It is the invisible that is the realest of all Reality!
How blessed we are to see and enjoy the wonders that can be felt beyond our understanding.
Thank you dear, dear child, for Being!
Thank you for visiting me today. You made my spirit soar right into the✨heavens✨
-RL